Infant Baby Teething Glove

Best teething toy for your baby!
Every baby will go through a stage of constantly biting things in order to soothe out their teething discomfort.
This can be a really painful task for both the parent and the baby, that is why the Super Baby Teething Glove was invented!
Provide your child the easy pain-reliever they need!
Babies love the glove, simply put them on the hands and they can act as a protection and a teething mitten.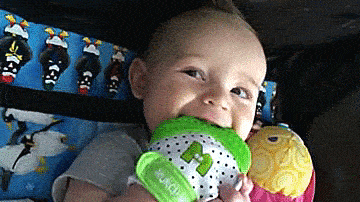 Super Teething Glove Benefits:
Provides Baby teething pain relief 
Protects hands from becoming chapped from excess chewing and saliva.
It's chemical free and baby safe
Moms love that the mitts are machine washable 
Super easy to clean 
Ideally suited to babies between 3 and 12 months old!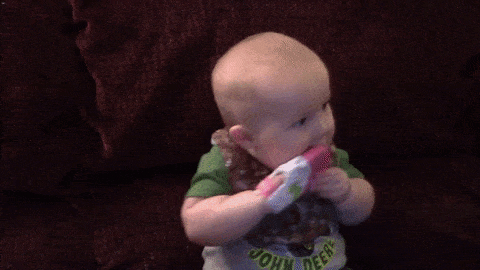 The Teething Mitten is functional, stylish & modern all in one and geared to infants 3-10 months.

Baby teething mitt allows easy self-controlled access to a teether for babies in the early stages of teething who cannot grasp a standard teether for long periods.
Why Does your baby need it?
👼 At some time between 4 and 10 months, your baby's first teeth will start to appear.
👼 Teething can be uncomfortable for some babies and may make them upset and bad-tempered.
👼 Typically, the bad-tempered come in is almost always the lower front teeth (the lower central incisors), and most children will usually have all of their baby teeth by age 3. 
👨‍🔬The Super Teething Glove has exceeded all safety testing!
📏Measures 11cm x 7cm
The munching part of our mitten is made from 100% food grade, BPA-free silicone.
It's ribbed and has soft points at the end to provide the massaging your baby needs for their sore teething gums.
Stop worrying about your babies' hands being in their mouth all the time with our safe and fun solution.
💦 Washing Instructions:
Machine wash on cold or warm on gentle or delicate cycle.
Machine dry on very low heat fluff or delicate cycle then airs dry if the interior is still slightly damp.
Do not dry on hot heat or over dry.
🔥 94% Of Customers Will Buy 2 or more!
⭐ You're 100% protected when you buy from FlareTrends:
✔  60 Day Money Back Guarantee. 
✔  Tracking number for every order 
✔  Encrypted SSL security for 100% secure checkout.
🎁 Free Worldwide Shipping & 50% Off Today!
Don't like it? We'll be sad, but we'll take it back. Refunds are 100% Guaranteed!
Limited Supply - Selling Out Soon
Click the green ADD TO CART above to get yours now!
---
Get special discounts on your order when you order in bulk!
🔥 96% of customers buy 2 or more 🔥
Unlock Additional Discounts when you buy more:
Buy 2 = 10% off
Buy 3 = 15% off
Buy 4 = 20% off 
Click the ADD TO CART button to order now!
   

 

Shipping takes around 10-20 business days due to high demand. We source products from all over the world to bring you epic offers and the lowest prices. This means sometimes you have to wait a little longer to get your order but it's always worth it!

 

 

 

 

Returns are easy. Simply contact us for returns and we'll get you a replacement or refund in a snap!